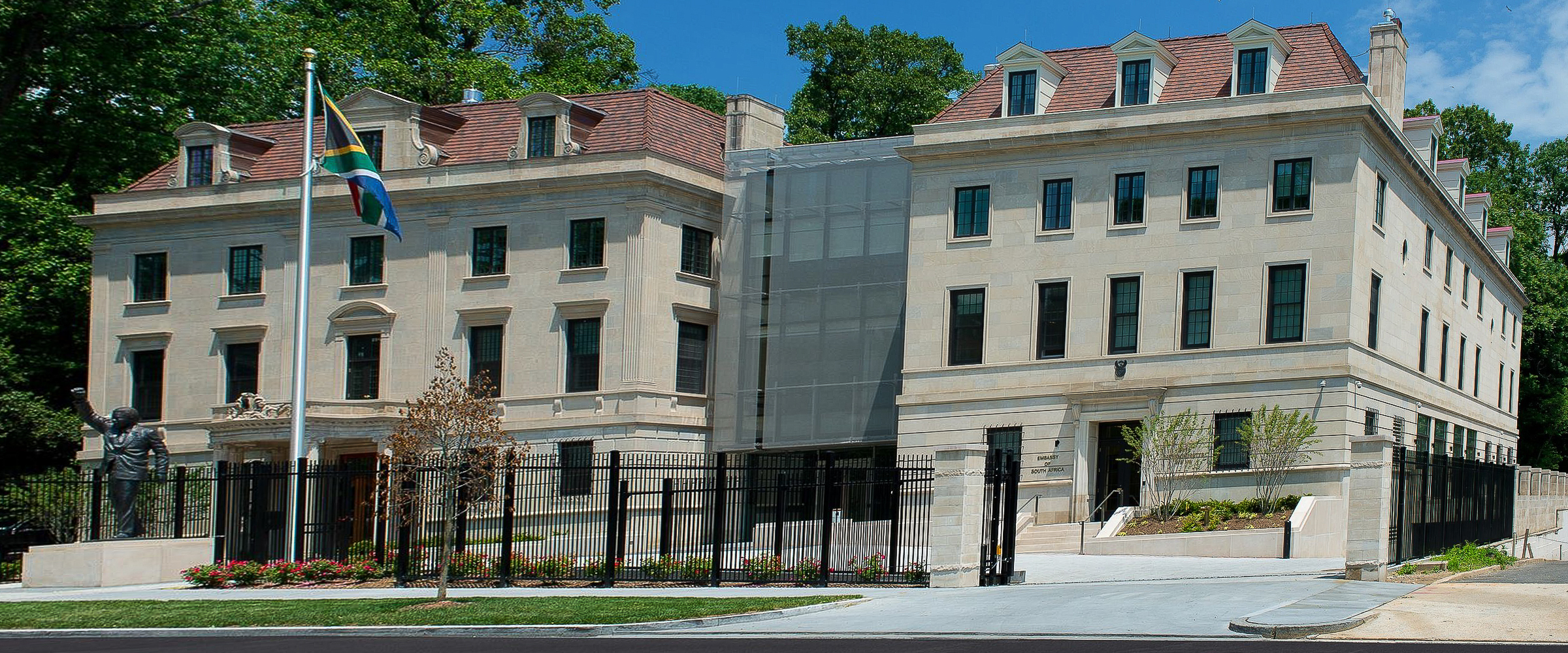 Welcome to the official website of the Embassy of the Republic of South Africa
Thank you for visiting our official website. We hope you will find the information useful, whether you are planning to visit South Africa or are interested in keeping abreast with the activities of the South African Embassy in Washington, DC. The Mission is committed to inculcating the spirit of Ubuntu and the "Batho Pele" (People First) principles, in the provision of its services; which is reflective of our country's values of putting humanity central to all that we do. South Africa is open for business and continues to provide a wealth of opportunities for those looking at investing in an emerging market that boosts a stable democracy, incredible infrastructure and world class financial systems.
We remain a premier destination for tourism and always welcome an opportunity to welcome you to our country of beautiful scenery, wildlife, beaches and amazing climate. What is more important however is that you will meet culturally diverse South Africans, waiting to welcome you to our rainbow nation! Thank you.
Should you need more information, we encourage you to reach out to us through our provided contact details, which you will find on this website.
About the Embassy of South Africa
The Embassy of the Republic of South Africa in Washington, D.C. is the official diplomatic mission of the Republic of South Africa to the United States of America.
It is located at 3051 Massachusetts Avenue, North-West, Washington, D.C. in the Embassy Row neighborhood.
Areas of Jurisdiction
Embassy of South Africa is responsible for the states of Alabama, Arkansas, District of Colombia, Florida, Georgia, Illinois, Indiana, Iowa, Kansas, Louisiana, Maryland, Michigan, Minnesota, Mississippi, Missouri, Nebraska, North Dakota and South Dakota, Ohio, Oklahoma, Texas, Virginia, Puerto Rico, Virgin Islands and Wisconsin.
Martin Luther King Jr. Day – Monday, 16 January
Human Rights Day – Tuesday, 21 March
Good Friday – Friday, 7 April
Family Day – Monday, 10 April
Freedom Day – Thursday, 27 April
Memorial Day – Monday, 29 May
Youth Day – Friday, 16 June
Independence Day (US) – Tuesday, 4 July
Thanksgiving Weekend – 23 and 24 November
Christmas Day – Monday, 25 December
Day of Goodwill – Tuesday, 26 December
No Vacancies available at this time.
No Tenders available at this time.
Visiting the South African Embassy
There are no parking facilities for the public at the Embassy, although street parking spaces sometime can be found nearby. However, if you plan to visit the Embassy for consular services, please plan to arrive by public transportation or drop-off. 
Visiting the White House  
Please note the Embassy cannot arrange tours of the White House for South African citizens. The U.S. Department of State has advised the Embassy that, at present, access for foreign citizens to White House tours as part of an Embassy-sponsored public tour group, is on hold. We are therefore unable to process any requests at this time. We will post an update on our website immediately if conditions change. Alternatively, you can visit the U.S. capitol. The Capitol visitor center is open to visitors from around the world and it offers all tours free of charge. For more information, visit
U.S Capitol Website
.